Twistshake Anti-Colic 180ml Pearl Red Pearl Red 180ml
Choose Color:
Choose size:
Choose quantity:
You save: €
3.99

(-

44

%)
(Product)PRODUCT is in stock
Product is not available
Twistshake's baby bottle is perfect to use in combination with regular breastfeeding. Every Twistshake contains a practical container as well as a mixing net. The unique system TwistFlow actively reduce baby colic and ensures an even flow. The bottle has a wide neck, making it easy to clean. It also has a grip-friendly design that retains heat. (NOTE! All pastel bottles have no outside packaging.)
Details
- BPA, BPS and BPF-free - safe for both your baby and yourself
- PP-plastic - manufactured in premium, high quality polypropylene
- Teat - made from silicon, S (0+m) included
- Mixer net - actively dissolves clumps
- Extra wide neck - cleaning up and refilling has never been easier with our bottles easy-access neck
- Container - prepare your meal at home and store it in the practical container
- Anti-colic valve - reduce baby colic
- Ergonomically designed - grip-friendly, for both parent and child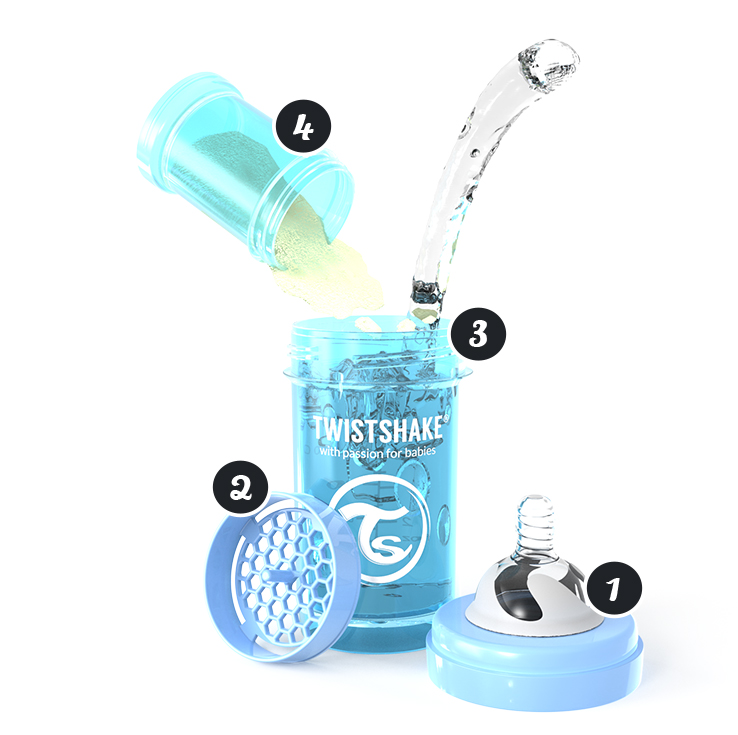 1 TEAT
Twistshakes specially designed teat. Size S (0+m) included.
2 MIXER NET
The mixer net actively dissolves clumps and guarantees a smooth solution
3 CONTAINER
Prepare your next meal in the practical container, or pack it full of fruits, berries, nuts or other snacks!
4 BOTTLE
Twistshake's bottles are ergonomically designed and feature an extra wide neck designed to make refilling and cleaning up as easy as possible
Model code: 227-78376
Product code:
212830
Color:
Pearl Red
Transport information
The estimated delivery time depends on the transport method chosen by the customer. If the item is out of stock, please contact our customer service regarding availability!